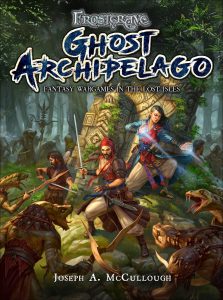 A complete, stand-alone game set in the world of Frostgrave. Ghost Archipelago moves the action to a mysterious chain of jungle-covered islands, that appear every few hundred years, only to disappear a few years later. The players take on the role of Heritors, heroes with super-human powers, whose ancestors drank from the fabled crystal pool. Aided by magic-wielding Wardens, the Heritors search the islands for the pool and any other treasures they can find along the way.
To begin your adventures amongst the Lost Isles, all you need is the rulebook, pictured here. Although the game encourages players to use whatever miniatures they want, or have available, an official range of miniatures is available from North Star Military Figures.
Once you've mastered the rules there are several supplements that contain even more adventures, monsters, and magic. Each one stands alone, so you can pick and choose what to explore next. Listed below are all of the official publications for the game.
Contains all of the rules you need to get started.
A ten-scenario narrative campaign, where the players search for the pieces of a gigantic statue that have been scattered across the islands. Plus new rules and background for snake-men.
Rules for creating unique native tribes that live amongst the islands, and three, multi-scenario campaigns.
Rules for creating Drichean city states and three, multi-scenario campaigns.
Includes cards for each of the Heritor abilities and Warden Spells, plus a unique 'Blood Burn' die.
Spellcaster Magazine
Spellcaster is my self-published magazine covering Frostgrave and Ghost Archipelago. Each issue contains a hodgepodge of optional rules, scenarios, and other fun bits.
Misc
One thousand random mutations written for Frostgrave, but usable with Ghost Archipelago with a bit of creativity.
Old Bones
Old Bones is my personal 'zine where I collect various bits and pieces for all of my games.
Old Bones: Issue 1 (Slippery Slope – A Frostgrave scenario with GA conversion rules, Alternate Poisons, Double Crossbows)
Blaster Anthology Contributions
Blaster is a co-operative wargaming anthology. Each issue contains s a piece from each of the regular contributors, including, usually at least one stand-alone game. Issues 2 and 3 feature rules for the Cthulhu Mythos in Frostgrave and Ghost Archipelago.
Shadowgrave: Part 1 (Volume 2)
Shadowgrave: Part 2 (Volume 3)
Fiction
Each book contains an exclusive scenario, written by me. Otherwise, they are included for completeness as because they are fun stories!
Ghost Archipelago: Tales of the Lost Isles by Various Authors
Ghost Archipelago: Farwander by Ben Counter
Ghost Archipelago: Destiny's Call by Mark A. Latham
Magazine Articles
A complete listing of Ghost Archipelago articles by Joseph A. McCullough that have appeared in various magazines.
The Floating Hulk
Solo scenario in Wargames Illustrated 361
The Fire Swamp
Scenario based on The Princess Bride in Tabletop Gaming 13
The Diamonds of Elias Skull
Three Scenario Campaign in Wargames Illustrated 371 reprinted in Spellcaster 7
The Infected Carcass
Scenario with Giant Flies in Wargames Illustrated 384
The Treasure of Captain Flint
Scenario and stats for Captain Flint in Wargames Illustrated 385
The Sunless River
Solo Ghost Archipelago or Frostgrave scenario in Wargames Illustrated 398