Grave Mutations for Frostgrave (and others!)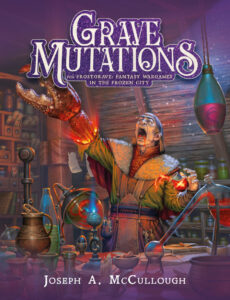 The d20 was not enough. Now is the time of the d1,000!
Grave Mutations is my new, self-published book that contains 1,000 different mutations for Frostgrave, arranged in a handy d1,000 table. With a bit of imagination, the book can also be used for Stargrave, Ghost Archipleago, and Rangers of Shadow Deep.
Extra eyes and animal parts, explosive sneezes and ink sprays, bodies of stone, iron, and glass, innate spells and exo-skeletons… There is no specific call for using the table, just a whole lot of weirdness with mechanical rules for each one.
To make the whole thing even more fun, my friend Barrett Stanley drew over 100 illustrations for the book, while Frostgrave veteran aRu-Mor provided the cover. Ironically, this is the largest supplement I have ever written and comes in at 127 pages!
So head over to DriveThruRPG where you can check out an extensive preview and pick up the book both in PDF and in print-on-demand!